While it is possible to wear your favorite running shoes when playing softball on artificial turf, a great pair of turf shoes can help you play your best. Turf shoes for softball perform a couple of important functions, bridging the gap between cleats or spikes and standard athletic shoes. Besides preventing damage to expensive playing facilities, they minimize your risk of injury by improving your grip on the ground. Quality materials and craftsmanship make a difference in comfort, durability, and other factors. You can expect to pay between $50 and $150 for some of the best turf shoes for softball. Shoes with unique features such as custom colors are sometimes priced a bit higher, and professional turf shoes may cost well over $1,000.

Quick Look: Top 3 Picks
Mizuno

Rank

1st

Rating

Price

Mizuno

Rank

2nd

Rating

Price

New Balance

Rank

3rd

Rating

Price
Key Considerations when Choosing Turf Shoes
When choosing the best turf shoes for softball, there are a few things to consider:
Gender: If you're female, you might notice that your options are somewhat limited. There's good news though: men's turf shoes are quite likely to fit your feet. A shoe size conversion chart can help you determine which size to order.
Materials: While some manufacturers offer leather turf shoes, most are made with easy-care synthetics and breathable mesh. Proprietary materials may be included too – these are often designed to provide added cushioning, decrease weight, and more.
Type of Tread: Small tread patterns might look a little strange if you're accustomed to standard trainers, but they help you get a good grip on turf, which can feel quite slippery in shoes with larger tread. Small tread pattern is among the most important factors when choosing the best turf shoes for softball – without it, you're likely to feel less stable and be more prone to slipping.
Price: While cheap turf shoes are available, they have a tendency to fall apart with heavy use. If you plan to play on multiple teams or practice more than once a week, you may want to make durability a priority. At the same time, low-priced turf shoes can be easily replaced! If you like the way a cheap pair looks, feels, and performs, then go for it!
Color: You want to look your best for your team, so consider color when making your selection. Some brands offer a wide range of options, while others stick to white, black, and perhaps gray. Consider adding colorful laces if you prefer a plainer shoe. It's a good way to show off your team's colors without paying a premium for custom colors.
With these tips, you'll find it easier to choose the best turf shoes for softball – a comfortable pair that meets your budget and helps you feel confident on the playing field. We wish you a fun and successful softball season!
Mizuno Men's Players Trainer Turf Shoe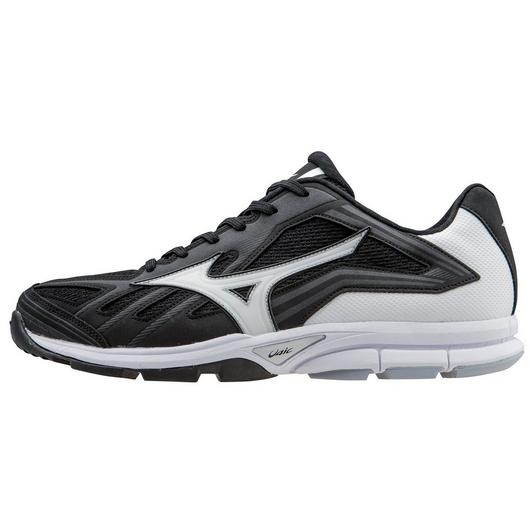 Designed with the movements made by baseball and softball players in mind, the Mizuno Men's Players Trainer Turf Shoe offers a good grip. Thanks to cushioning at the forefoot, along with extra padding at the tongue and collar, they are more comfortable than standard baseball shoes. These turf shoes feature a traditional, two-tone appearance and come in popular colors including black, white, red, and blue.
Pros:
Good level of stability
Extra padding for comfort
Light weight
Cons:
Fewer color combinations than some other brands
Whether you're a player or a coach, you're likely to appreciate the Mizuno Men's Players Trainer Turf Shoe for its traction as well as its comfortable fit and light weight. A few reviewers mention that the insoles lose their bounce after some time, but that the shoes regain their comfortable feel once replacements such as gel inserts. Players with high arches might find they benefit by adding extra arch supports, as the existing ones are designed to fit average feet.
Mizuno Women's Players Training Shoe
Designed to offer a combination of comfort and stability, Mizuno Women's Players Training Shoes feature breathable mesh uppers for a cool feel. The soles offer distinct gripping zones for reliable traction on slippery turf.
Pros:
Excellent traction
Good level of support
Affordable price
Cons:
Pitchers will need to add toe grips
Limited choice of colors
Mizuno Women's Players Training Shoes get good marks for comfort and light weight, with many reviewers noting that they feel better than some other brands they've tried. Good cushioning and support translate are two favorite features. These may be the best turf shoes for softball if traction is your main concern; if you're looking for custom colors, you might want to select a different brand. It's worth noting that many players opt to add colored laces to give these women's Mizuno softball shoes a greater level of visual appeal.
New Balance Men's T4040v4 Turf Baseball Shoe
Made with all-synthetic materials for quick drying and easy upkeep, New Balance Men's T4040v4 Turf Shoes feature rubber soles with plenty of grip at the toes, heels, and sides. Available in over a dozen color combinations, these turf shoes offer an attractive appearance when paired with your softball uniform.
Pros:
Removable insert lets users choose different insoles if preferred
Good combination of comfort, durability, and price
Available in a wide range of colors, sizes, and widths
New Balance is one of the best-rated brands available, and the T4040v4 is among the company's best turf shoes for softball. These shoes tend to receive excellent ratings for comfort and good ratings for fit, although some reviewers note that they order ½ size larger. Infielders and outfielders enjoy wearing these shoes, noting that they provide a good grip as well as a stylish appearance. Custom color combinations may be priced higher than standard black and white.
New Balance Men's T4040V3 Turf Shoe
Designed to offer a superior grip even on wet turf, the New Balance Men's T404V3 features a sawtooth turf traction sole that meets the needs of softball and baseball players alike. Full-length REVlite midsoles contribute a lightweight feel, and reinforcement at the toe and midfoot provide good stability.
Pros:
Durable construction
Good breathability
REVLite components feel lightweight and help with speed
Cons:
Many players mention a tighter feel out of the box; some note that fit improves with wear.
Soles feel a bit stiff; adding soft inserts improves comfort
If you are looking for a shoe that offers a good combination of speed and traction, then you may like what New Balance Men's T4040V3 turf shoes do for your game. Ideal for wet and dry surfaces and designed to accommodate the needs of players on artificial turf as well as grass, they are lightweight, comfortable, and easy to clean. Sizing may run just a little snug, and many reviewers recommend going up ½ size from your usual, particularly if your feet are between average and wide width. While these men's softball shoes offer a classic, stylish appearance, it would be nice if they came in a wider range of colors.
New Balance Women's ST4040 Turf Trainers
Designed specifically to meet the needs of female softball players, New Balance Women's ST4040 Turf Trainers offer good support throughout the entire foot, with overlasted support cradle in the midfoot section. The entire upper is synthetic for easier maintenance, and breathable mesh tongues help keep feet feeling cool. The sole features a segmented gripping pattern for excellent traction on slippery turf and dry grass.
Pros:
Good traction on artificial turf and dry natural fields
Great combination of light weight and stable fit
Synthetic materials for easy cleaning and quick drying
Cons:
A few reports of size running a bit small; common issue in New Balance softball shoes
Whether you play softball indoors on artificial turf, outdoors on natural grass, or a combination of both, you're likely to appreciate these women's New Balance turf shoes for their stability, traction, and cool, breathable fabrics. Light weight helps prevent fatigue. It's worth noting that many reviewers find that these shoes run a bit small. Ordering in a half-size up can help, particularly if your feet are wider at the toe, or if you sometimes need wide-width shoes.